Archery Analytics News Blog
Statistical Walk-back Test
by Patrick, 04/18/2019
We implemented a statistical walk-back test in order to bring bow tuning to a next level. The possibility to record and calculate the connecting line between many arrows by means of statistics will lead to a much higher accuracy especially of button tuning for recurve or bare bows.
RingDing will automatically recognize the blue cross that serves as a reference point for the walk-back test (left image).
After pressing the 'start walk-back test' button, archers can shoot as many arrows they want for each distance, always targeting at the blue cross (the right image shows the RingDingApp during recording). For example, you can shoot one arrow at 5m, 2 arrows at 10m and finally 6 arrows at 40m, depending on the accuracy you want to achieve.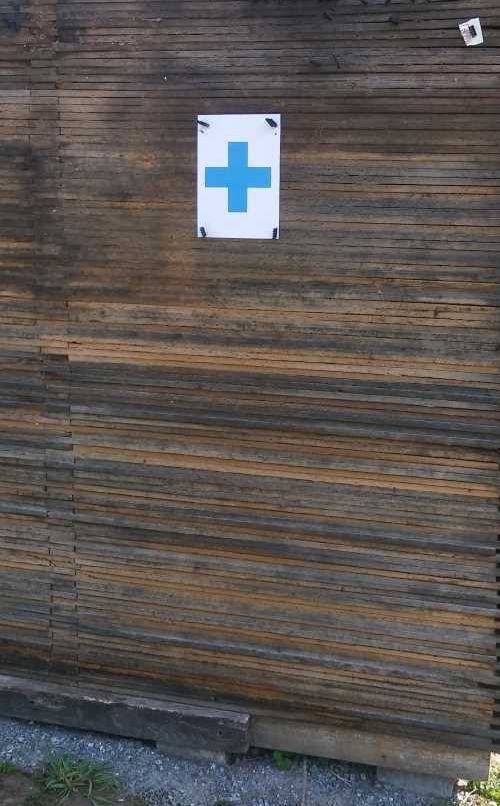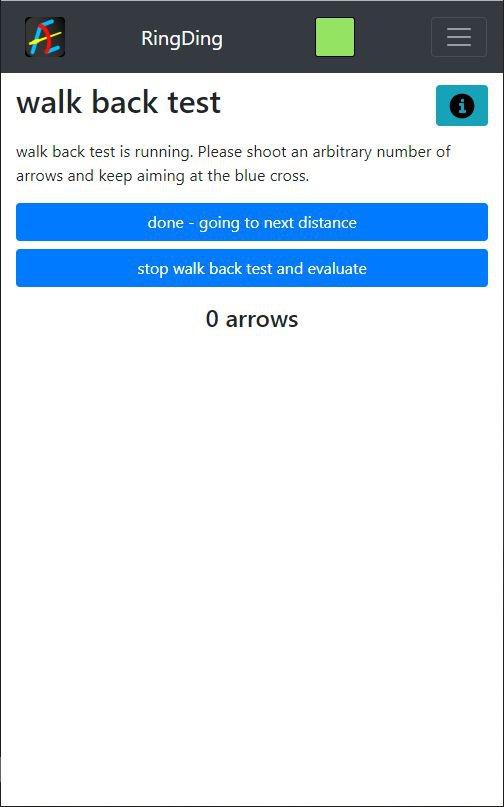 The following video shows a recording of two walk-back tests. The first test leads to a red line connecting the various arrows belonging to the increasing distances. As the line deviates from the ideal vertical line, the bow button was adjusted by a 1/8 turn inwards, leading to a different center position of the arrow. The second red line shows the result of the second walk-back test after tuning the button. It shows that the button tuning was successful.
---
Presentation on the German Indoor Championship 2019 in Biberach
by Patrick, 03/10/2019
On 9.3.2019 we demonstrated RingDing at the Indoor German Championship in Biberach. 
We introduced RingDing to DSB in order to find possible applications for the future. Despite the adverse conditions in the open air they listened very excited and there was an interesting conversation on possible applications in training and tournaments.
The organizers should not go unmentioned here. Above all, the orga-team with Gerd at the top.
And the involved clubs: SV Essendorf e.V.; Schützengilde Bad Schussenried e.V; TG Biberach 1847 e.V. - Bogensport; BSC Laupheim e.V. and Äffle und Pferdle.
Thank you all for giving us the opportunity to present RingDing!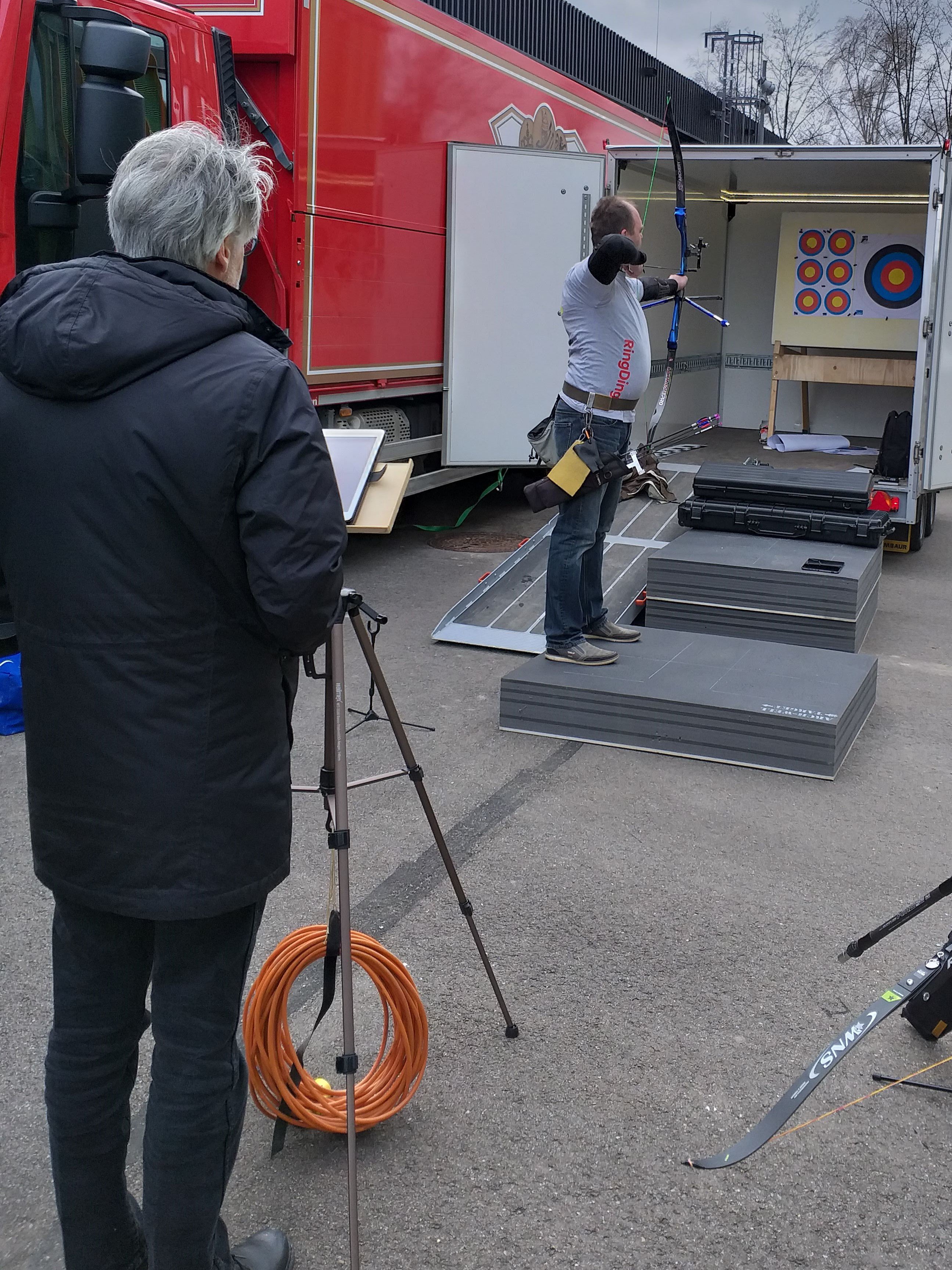 Demo stand
Live view ...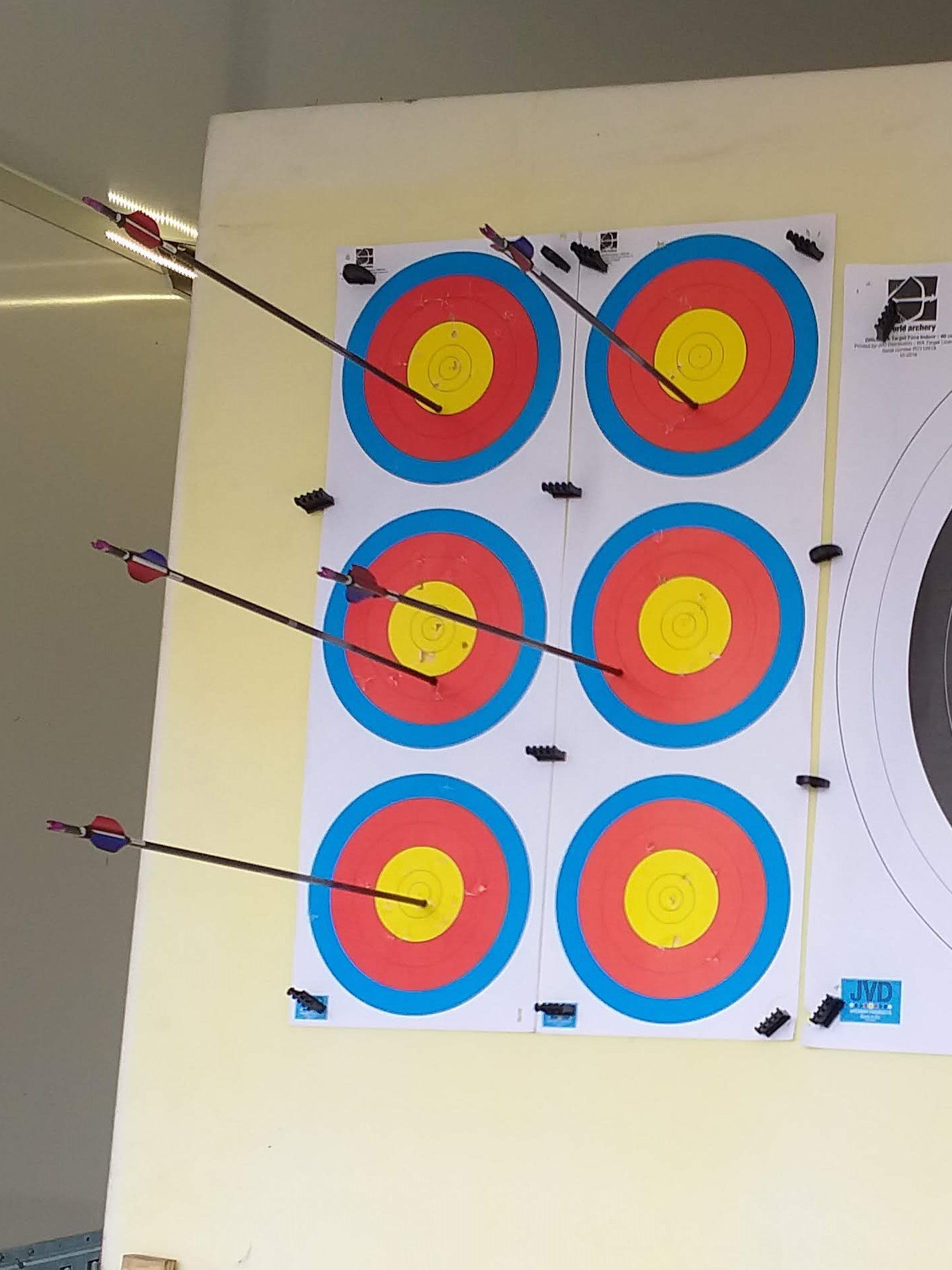 ... the left spot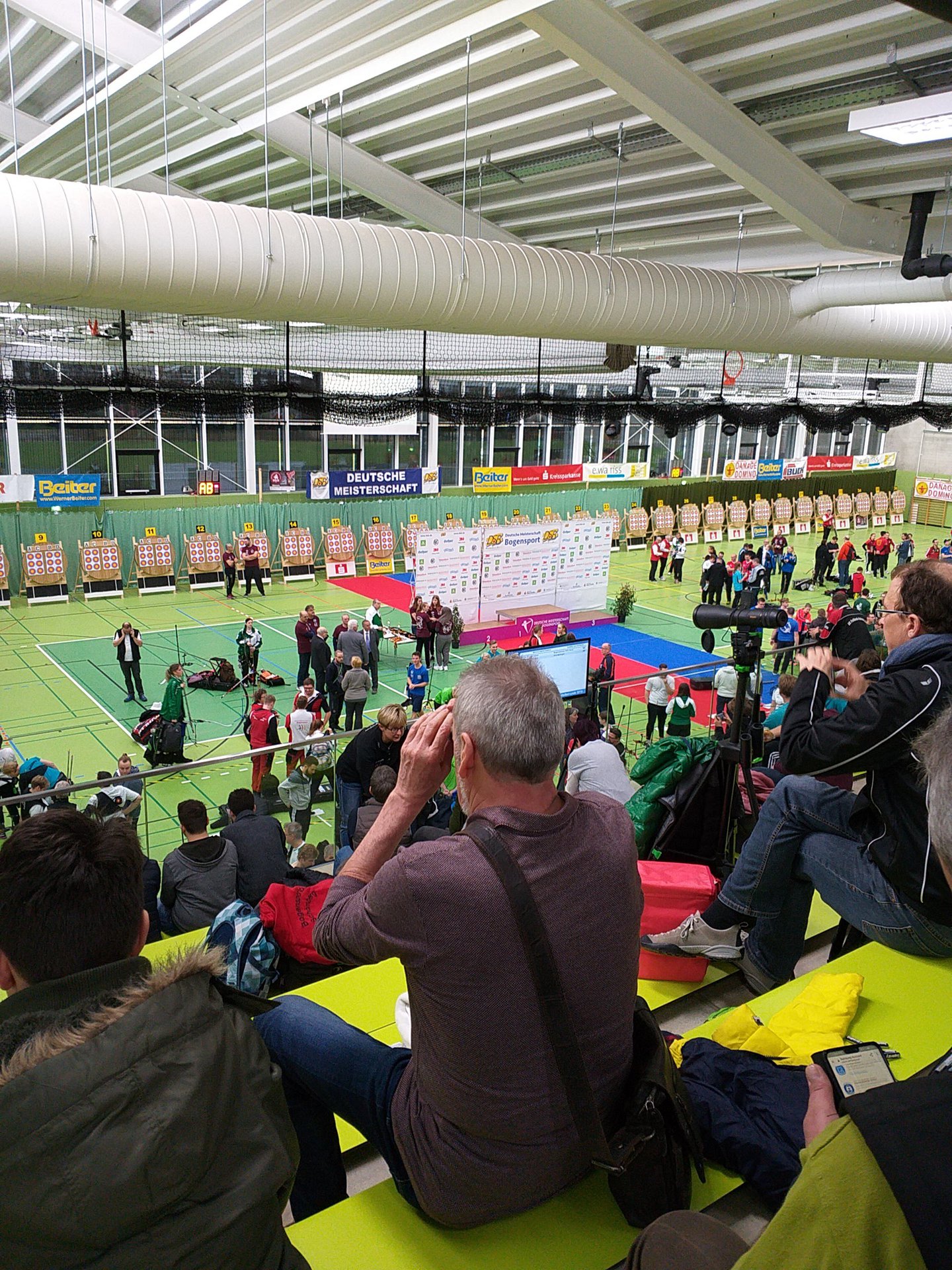 DM Halle 2019 Biberach an der Riß
---
Used Target Faces
by Patrick, 03/03/2019
Does RingDing always need new proper target faces? There are some limits, but RingDing reliably operates with very used or even damaged faces. In the following example you can see an arrow impact on a 40 cm target face where the arrow is located within a paper hole. The arrow has been correctly detected and valued by RingDing.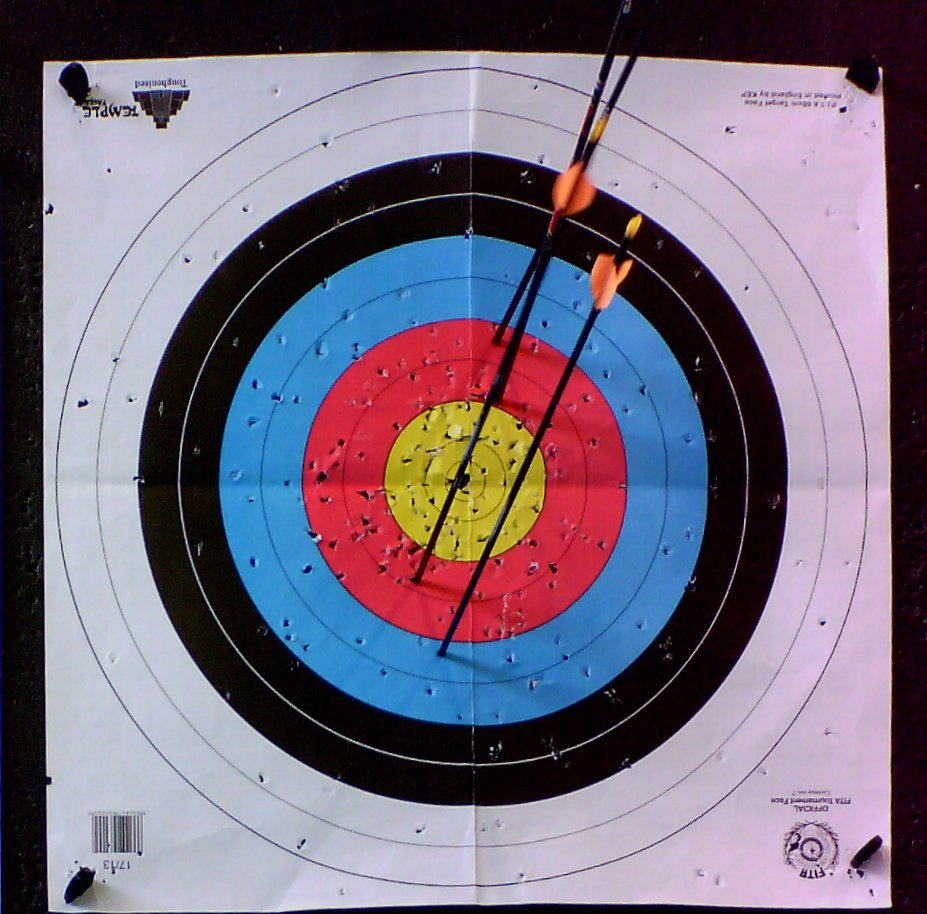 Before arrow impact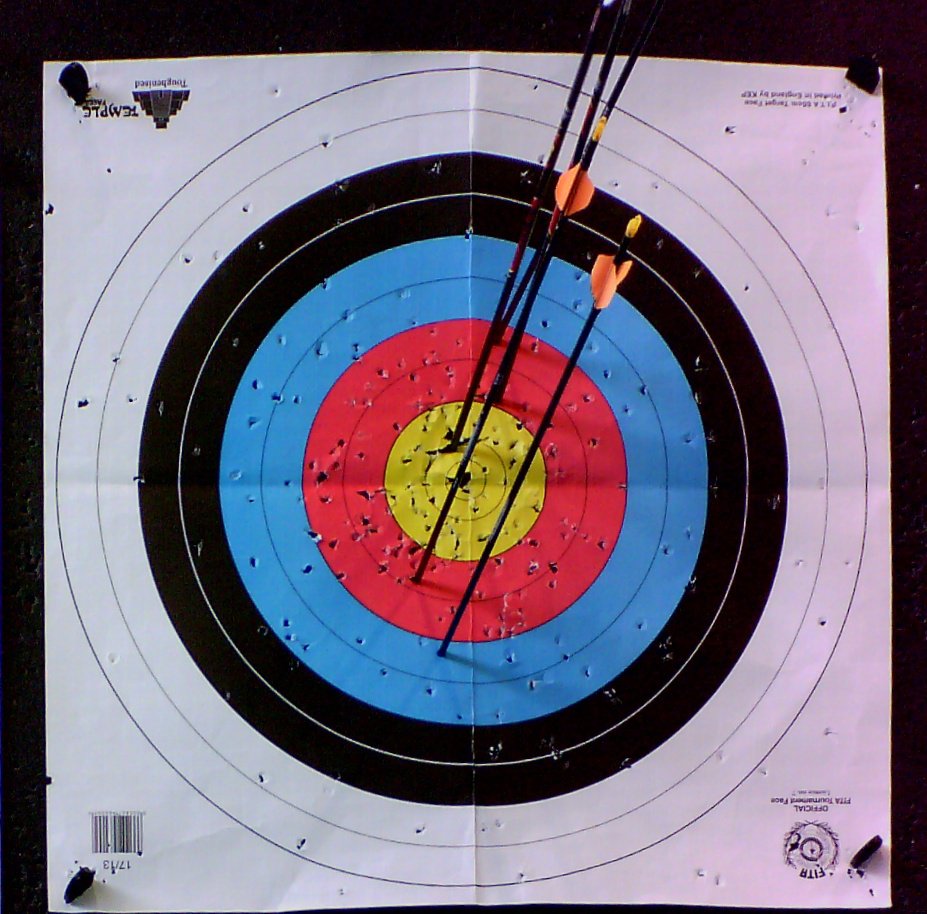 The arrived arrow on the upper border of the 10 at 11 o'clock position, sitting within a paper hole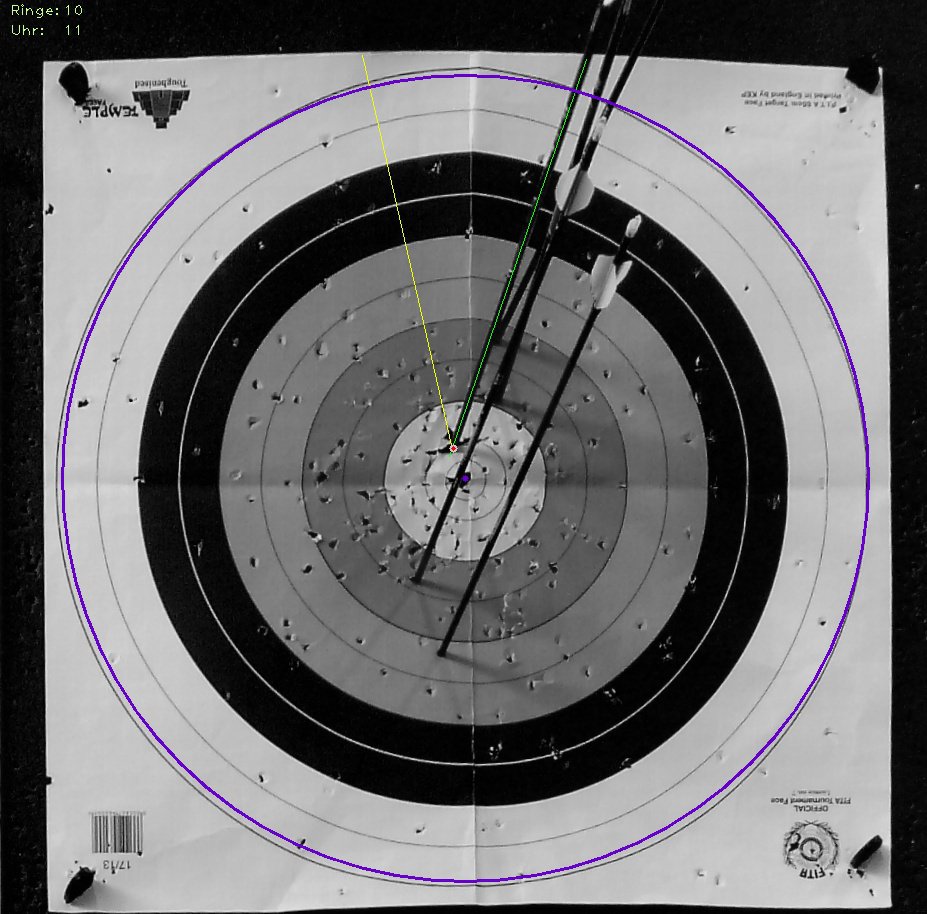 The result: it's a 10 (see text in upper left corner of the image)
Further pictures of  a situation with a very used spot face. See arrow in lower spot. The image on the right shows the RingDing calibration on  'potato-shaped' contours of the rings.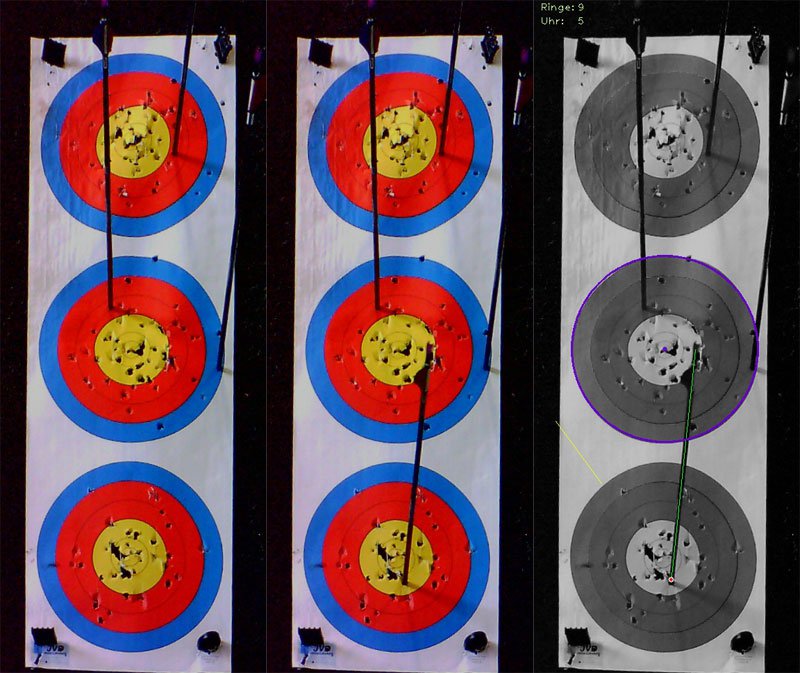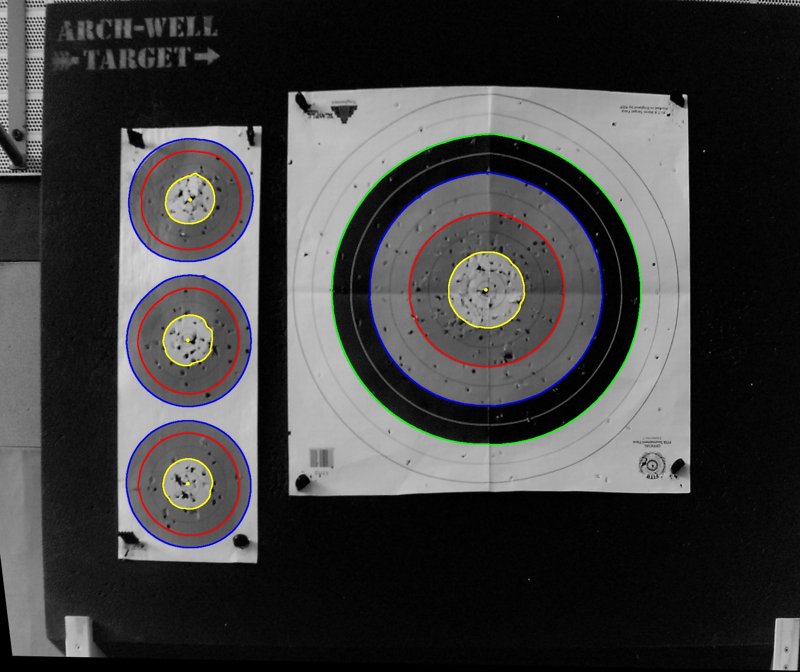 ---
Several targets at a time
by Jochen, 02/09/2019
People asked whether it is possible to record several target faces at once. RingDing autonomously recognises all layouts according to WA and assigns the correct letters A, B, C and D. All hits will be recorded for that archer who has been associated with the corresponding target face. The archers can display 'their' target face on their tablet or mobile. The later analysis of the recorded arrows will be seperate for each archer.
Below you can see a situation in our last indoor training session using 4 vertical spots. The first image shows the calibration RingDing did for these target faces. The second image shows an end of the training session. All arrows have been detected and recorded. For RingDing it doesn't matter whether the arrows arrive at the same point in time or one after another.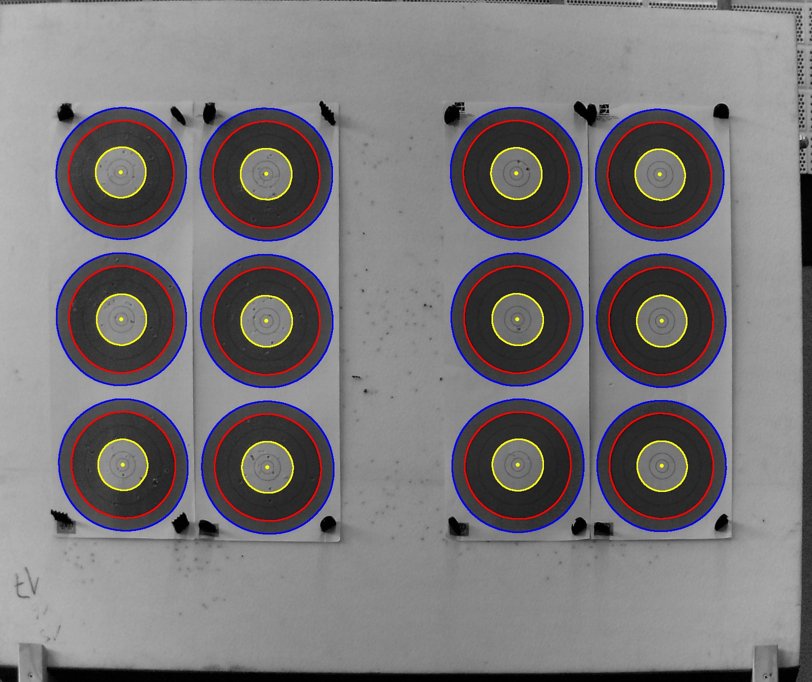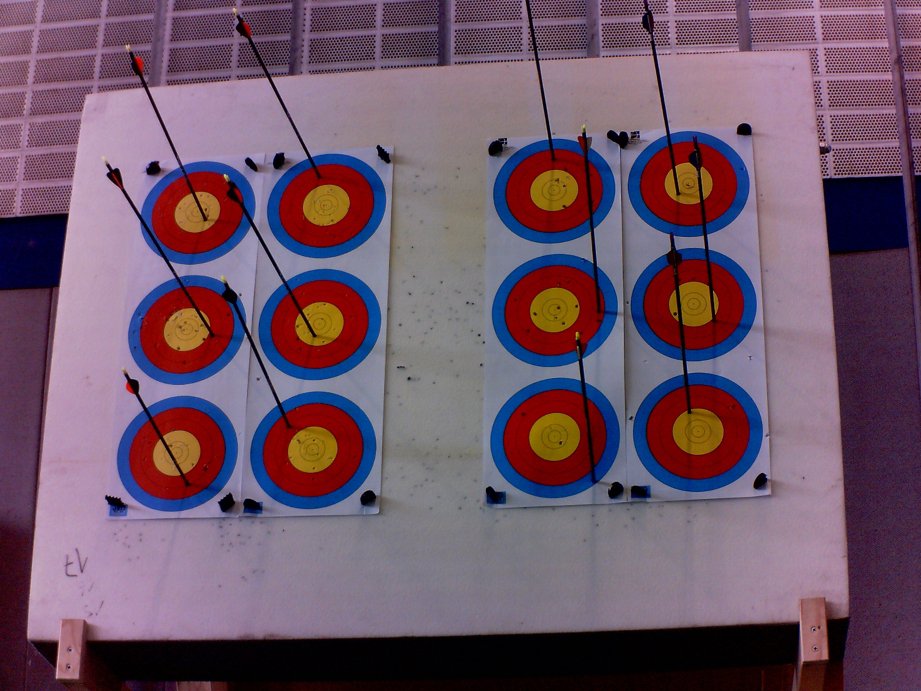 ---
RingDing Performance Test
by Jochen, 01/26/2019
We did a performance test and shot 11 arrows on a single spot target. RingDing detected all arrows correctly. The first image shows the view from the left camera right before the last arrow arrived. The second image shows the same view right after the last arrow did arrive. The difference between these two images is good enough for RingDing to calculate the position of the arrow. The result of the computation is shown in the third image. The detected arrow is marked with a red dot.



On the video you can see how the RingDingApp recorded the arrows during the test. The RingDingApp ran on a mobile phone.
---
Video and Blog
by Jochen, 01/24/2019
We launched the RingDing video and received a lot of positive feedback from the community.
In order to keep you updated on the developments, we started this blog here. Keep following!
---
Archery Electronics News Blog
Beschossene Auflagen
by Patrick, 03/03/2019
Braucht RingDing immer neue, unbeschädigte Auflagen? Alles hat seine Grenzen, aber RingDing arbeitet sehr zuverlässig mit beschossenen Auflagen. Im Beispiel sieht man an einer 40 er Auflage, dass der letzte Pfeil in einem 'Loch' steckt und trotzdem korrekt gewertet wird: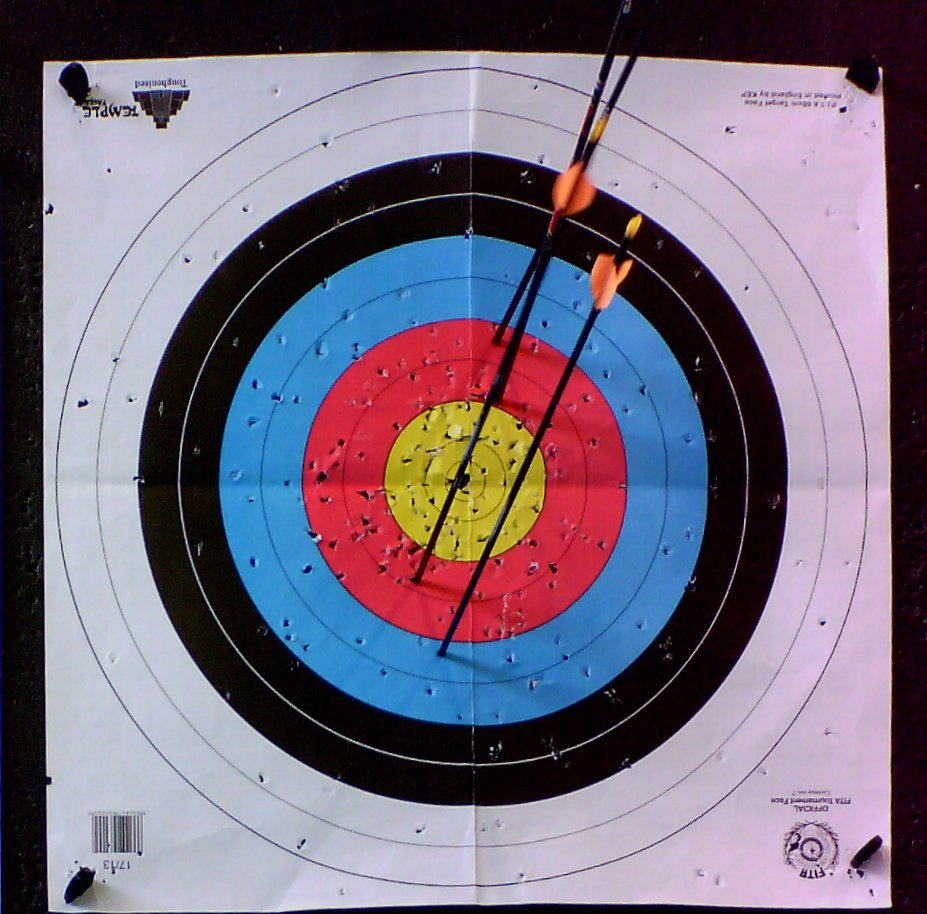 Vor dem Einschlag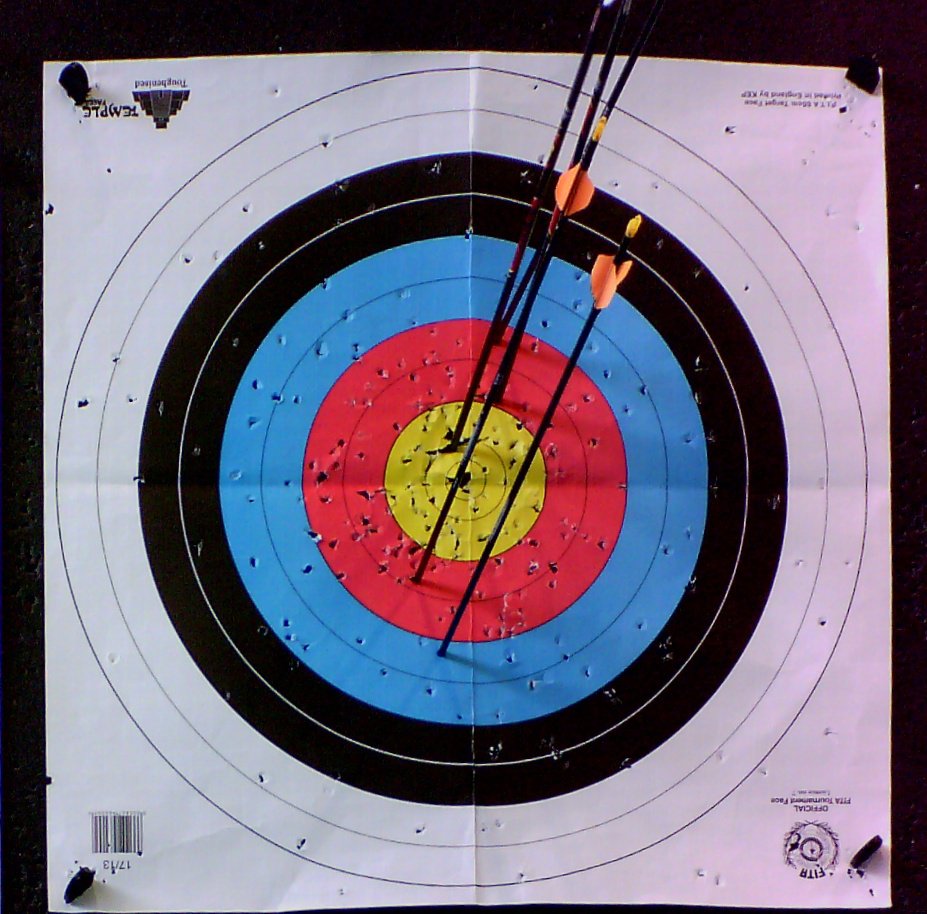 Der Pfeil am Rand der 10 auf 11 Uhr in einem Loch der Auflage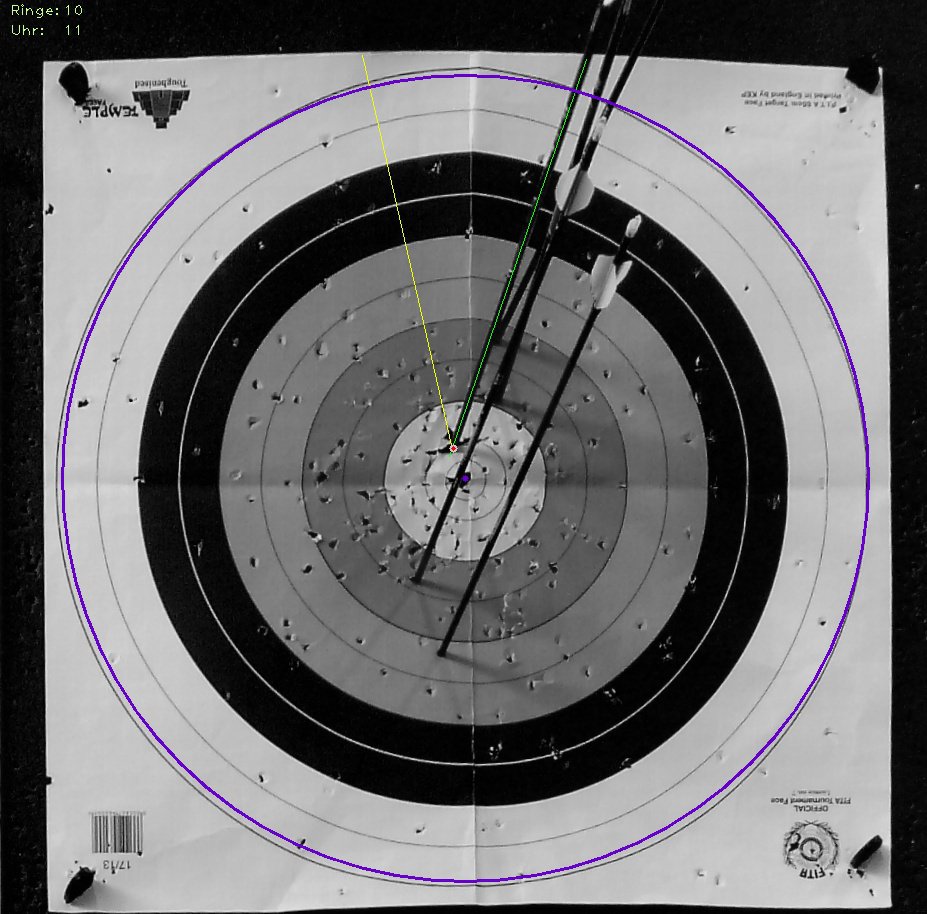 Und hier das Ergebnis der Erkennung: eine 10
Und noch 2 schöne Bilder, von einer Wertung bei löchrigem Spot. Das rechte Bild zeigt die Kalibrierung des RingDings für 'kartoffelförmige' Ringe.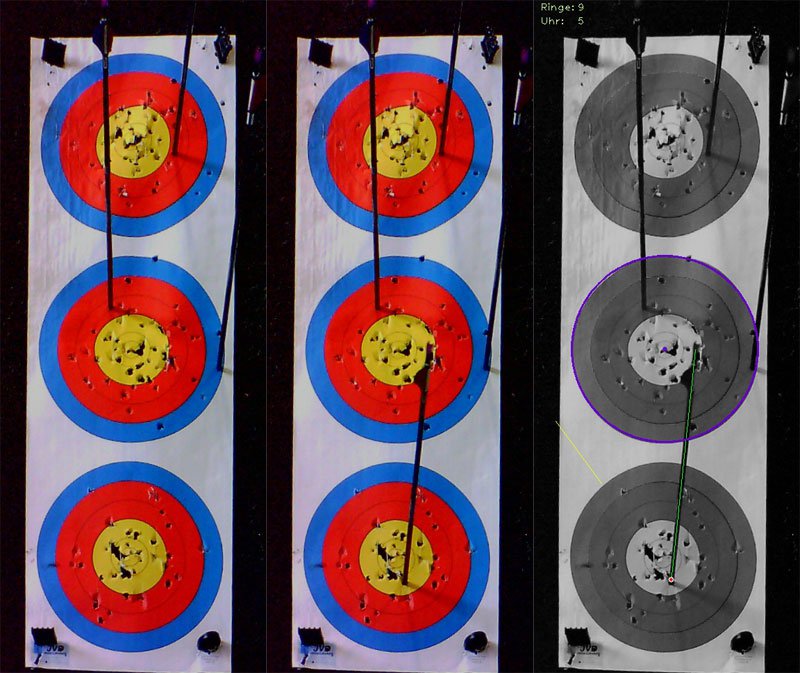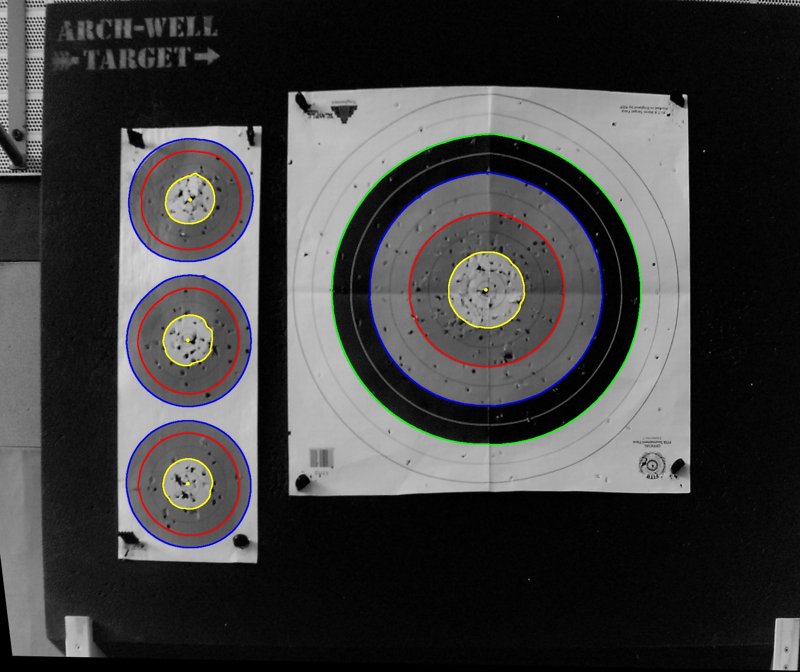 ---
Mehrere Auflagen gleichzeitig erfassen
by Jochen, 02/09/2019
Es wurde häufiger die Frage gestellt, ob RingDing mehrere Auflagen auf einer Scheibe gleichzeitig erfassen kann. Das ist selbstverständlich möglich. Alle zulässigen Anordnungen der Auflagen nach WA werden automatisch erkannt und mit den korrekten Bezeichnungen A, B, C und D versehen. Jeder Treffer wird dann dem Schützen zugeordnet, der für diese Auflage eingetragen wurde. Alle Schützen können an der Schießlinie 'ihre' Auflagen am Tablet / Handy anzeigen lassen. In der nachfolgenden Analyse lassen sich die Treffer getrennt für jeden Schützen auswerten.
Hier seht Ihr eine Situation aus dem letzten Hallentraining mit 4 3er Spots. Das erste Bild zeigt die Kalibrierung des RingDings für diese Auflagen. Das zweite Bild zeigt eine Passe während des Trainings. Alle diese Pfeile wurden erkannt und aufgezeichnet. Dabei spielt es für RingDing keine Rolle, ob diese Pfeile gleichzeitig oder nacheinander eintreffen.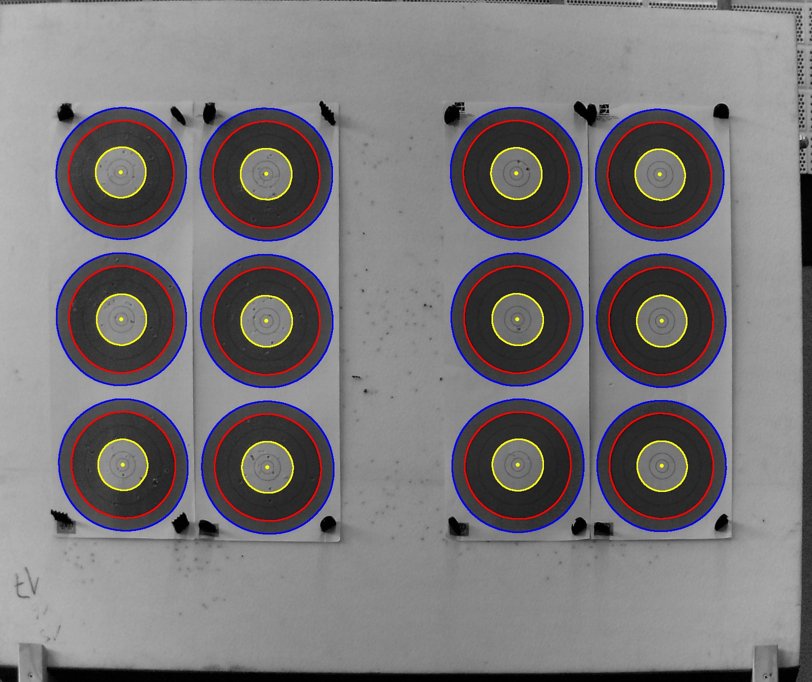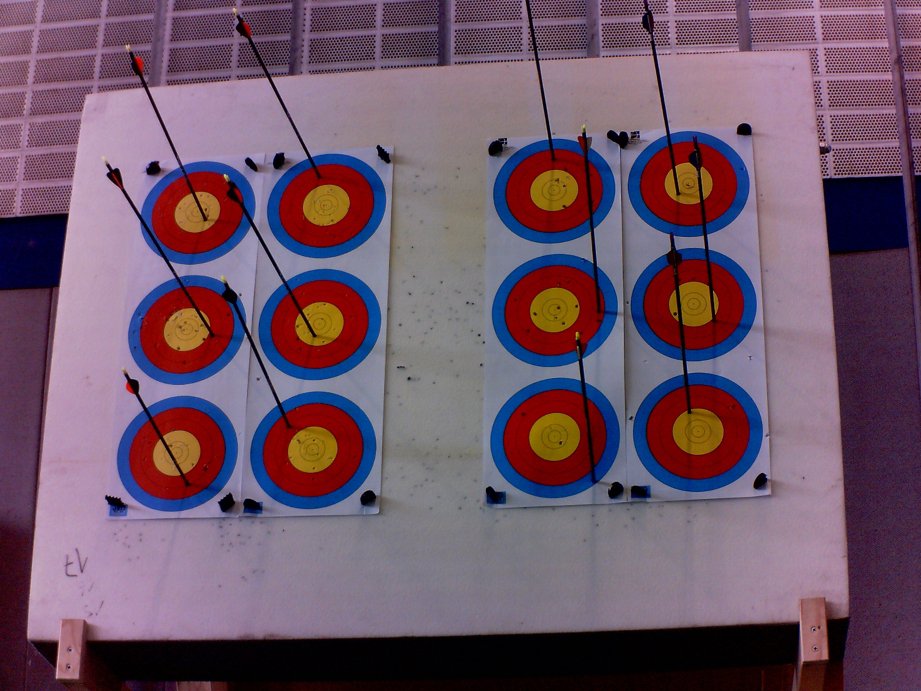 ---
RingDing Performance Test
by Jochen, 01/26/2019
Wir führten einen Performance Test durch, bei dem 11 Pfeile auf einen Spot mit 20cm Durchmesser geschossen wurden. Das RingDing hat alle Pfeile korrekt erkannt. Im ersten Bild seht Ihr die Sicht der linken Kamera vor dem letzten Pfeil. Das zweite Bild wurde unmittelbar nach dem letzten Pfeil aufgenommen. Die Differenz zwischen beiden Bildern reicht aus, um den letzten Pfeil korrekt zu erfassen. Das Ergebnis der Berechnung im RingDing zeigt das dritte Bild. Der erkannte Treffer wird durch einen roten Punkt markiert.



Hier seht Ihr noch den Screencast von der RingDingApp der zeigt, wie die einzelnen Treffer der Reihe nach erkannt und auf dem Handy des Schützen angezeigt wurden.
---
Video und Blog
by Jochen, 01/24/2019
Unser RingDing Video ist jetzt online. Sehr viele Leute haben uns ein positives Feedback gegeben und sind gespannt, wie es weiter geht.
Um Euch auf dem Laufenden zu halten, haben wir diesen Blog eingerichtet und werden regelmäßig Neuigkeiten zum RingDing mit Euch teilen.
---